Feedback
I would welcome feedback on the special issue of ACM interactions. They can be posted as comments on my journal posting announcing publication. Please use your full name in the comment form. If you would like a copy of this issue of interactions please contact me with your name, position, organisation, and postal address, and one will be sent to you.
Related writing
Letter in in Media Guardian, 29 November 2004, posted in my journal with a link ot the published letter
'Publishing by Design: Time to Make Human Factors a Concern' Nico Macdonald, Online Journalism Review, 20 May 2004 and sidebar 'HCI Gains Visibility as Digital Media Mature'
'The future of Weblogging' Nico Macdonald, The Register, 18 April 2004
Publication
The accepted Development Consortium submissions are published in interactions, March + April 2004 special issue entitled 'HCI and the challenges of mass communications'. The issue also inlcudes exclusive columns by Neil F. Budde of The Neil Budde Group and founding editor and publisher of The Wall Street Journal Online, Mercury News Technology Columnist Dan Gillmor, forecaster and design strategist Andrew Zolli, and MIT Media Lab eMarkets Initiative co-director Michael Schrage. Individual articles can be purchased from the ACM Digtial Library for US$5 by following links from the contents list in current and back issues. My introduction is available to read at no cost.
Budde, Gillmor and Schrage also took part in a CHI panel entitled 'Mass communication and interaction: CHI and the fate of AOL TimeWarner'. Their colums are based on their contributions to the panel.
Background
The CHI2003 Development Consortium investigated whether human-computer interaction (HCI) design is a key to the future of mass communication, and if so where it should focus and how it can make a difference.
Submissions were invited from people working in all areas of publishing and broadcasting, for information vendors and telecommunications companies, as well as commentators, analysts, and HCI practitioners. Fourteen were peer reviewed and ten accepted.
The meeting of the Development Consortium was an open event at CHI and anyone coming to CHI was welcome to attend.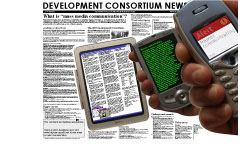 The Development Consortium poster was produced the day after the event concluded, was presented at the conference. It was accepted for the British HCI Group HCI2003 conference in Bath, UK.
The CHI2003 Development Consortium on interaction design and mass communication had two objectives:
To raise the issue in the publishing and mass communications industries that one element of their future success will be the successful application of HCI and interaction design

To identify the key areas in which mass communicators can benefit from HCI and interaction design, and identify possible solutions and ways or arriving at solutions. More generally to raise expectation about the quality of future models for mass communication.
What does mass communication cover?
Publishers of newspapers, magazines, journals, books and newsletters, including organisations for who publishing is not a primary activity.

Broadcasters of time-based media, primarily radio and TV.

Telcos broadcasting using SMS and conference calling.

Organisations providing online group interaction through discussion, chat or IM.
Outputs
An edited publication of the Development Consortium submissions, particularly highlighting research elements.
A white paper or proposal document outlining the major issues in mass communication and interaction and proposals for addressing them, or for ways they might be addressed.
A public charter outlining best practice in this area, proposing guidelines, and establishing general goals for innovation and support of user requirements.
Possible establishment of a working party to develop models for HCI across media.
Associated articles (or possibly radio shows) commissioned or placed in industry and business publications written by Development Consortium members.
Event format
Day 1: Sunday 6th
0900: Introductions
0930: Discuss why HCI and interaction design are important in mass communication, and where the mass communication industry has done well and badly
1000: Present submissions (20m) followed by discussion (20m) aimed at developing insights, improvements that could be made to the submission prior to publication, identifying further areas for research, related but un-addressed themes, and uber-themes
1230: Lunch
1400: Present submissions continues
1600-1630: Break
1800: End. Dinner together.
0900: Review progress
1000: In small groups discuss un-addressed themes and uber-themes, followed by report-back and discussion
1200: Discuss where there is need for more innovation in HCI and how the CHI world could work better with mass communicators
1230: Lunch
1400: Flag-up where more research is needed and identify key methodologies
1430: Pull together and critique key references
1500: Identify the barriers to mass communicators doing better
1530: Discuss best ways to communicate the insights from the Consortium to mass communicators, and consider proposed publication format
1600: Break
1630: Produce a poster for display in the main conference and discuss what to report back to the special area on Mass Communication panel, 2:30 pm Tuesday 8 April.
1800: End. Dinner individually.
Accepted authors and submissions
Louis Weitzman, IBM Internet Technology Group

Andrew Zolli, Lead Partner,

Z + Partners

Giles Rollestone, Design Consultant,

SBI and Company

Lorenzo Wood, Chief scientist,

Oyster Partners Ltd

and Luke Skrebowski, Experience architect,

Oyster Partners Ltd

Mark Hurst

, President, Creative Good

Darren Reed,

Department of Psychology

, University of York

Anxo Cereijo Roibás, Senior Lecturer in HCI for Interactive TV,

School of Computing, Information and Mathematical Sciences

, University of Brighton and Riccardo Sala, Faculty of Design, Politecnico di Milano University