At this event we considered how newspapers can survive falling circulation figures and spiralling ad revenues. And whether new media has led to their destruction or will help reinvent and rejuvenate the format.
Documentation
The event was filmed. A link to the edited video will be posted here in due course.
Images
Images may be found via the event entry on Upcoming.org.
Weblog posts
Find Weblog posts tagged NMK-newspapers.
Themes
For the event I created a Newspaper Issues Map to present an overview of the factors that had created the current situation in the industry, the current responses, and possible futures.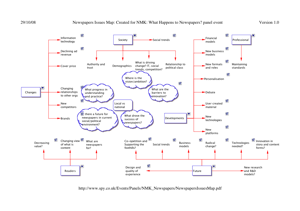 What is driving change? IT, social trends, competition?
What value do people get from newspapers? Has this changed?
How has the moral authority of and trust invested in newspapers changed?
How is the relationship to broadcasters and other media, local news, wire services changing?
Who are the new competitors: non-UK newspapers, broadcasters, free sheets (eg: Metro, Short List), the Drudge Report, Daily Beast, Huffington Post, DayLife?
Will all content be free and, perhaps, follow music into the 'loss leader for physical experiences' model?
Why when we are wealthier than ever (were?) we have been so reluctant to pay for the products of the news media?
What new editorial models are being developed: newspaper as curator/aggregator?
New other developments have we seen: MyTelegraph, Comment is Free, instant feedback and correction?
What new business models are being developed: commerce related recommendation, exploiting the distribution chain to attract new forms of advertising (eg: Observer Sport Monthly), recommending local services?
What technologies do newspaper publishers need, eg: e-paper?
What role does quality of experience have in newspapers: increasing materiality of print?
What ideas exist for radical change: oursourcing non-core competencies, etc?
Is there a role for 'co-opetition', between established and new/small publication?
Participants
Chair: Nico Macdonald
Neil Mcintosh, head of editorial development, guardian.co.uk. Weblog at Complete Tosh.
Justin Williams, Assistant Editor, Telegraph Media Group. Writes a journalism Weblog at Counter Value.
Martin Stabe, online editor, Retail Week, formerly new media editor, pressgazette.co.uk. Weblog.
Tim Gopsill, editor of The Journalist, the magazine of the National Union of Journalists, distributed free to 37,000 journalists in the UK and Ireland. Tim is currently co-chair of the National Council of the Campaign for Press and Broadcasting Freedom and co-author of Journalists: 100 years of the NUJ (Profile Books, 2007) [Amazon.co.uk].
Mike Rowley, Director of Digital Publishing, Northcliffe Media. Oversees Northcliffe's 150 plus 'This is' sites.
Event information
Tickets cost £25.00. Full event information on NMK site. This event was supported by the Guardian.